---
---
Training with Down District Dog Training Club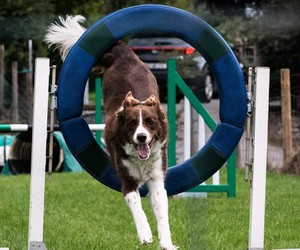 CLUB POLICY
Please take the time to read our club policy
DOWN DISTRICT DOG TRAINING CLUB

 

(Affiliated to the Kennel Club)      

 

CLUB POLICY

 

Established 1970

Chairperson: Maria Haage

Training Co-ordinators:                              

Pet Dog Training/Good Citizen:    Maria Haage            07760760301

Competition Obedience Training  Jillian Davis              07748146336

Agility Training:                             Mary Morgan             07752978076          

 

Secretary: Brenda Patterson

Treasurer: Ian Jamison

                       

** The main aim of the Club is to encourage responsible dog ownership through positive training methods and to promote a better image of dogs in society**

 

Please take time to read our 'club policy' which is designed to ensure the safe and effective running of the club at both the Obedience venue and the Agility training field.

 

Dogs must be on lead at all time unless under training supervision.

Dog poo must be cleaned up and taken away with you.

It is advisable to have a current vaccination certificate.

Dogs suffering from infectious diseases eg kennel cough, must be kept away from the Club until given a clean bill of health.

Bitches in season may be permitted to attend in exceptional circumstances

It is club policy to use positive reinforcement training methods, using toys and food.

Harsh handling will not be tolerated.

No correction/choker collars are permitted

Handlers please respect property at both the obedience venue and the agility training field.

Young handlers (10 years +) are welcome to participate in the training once trainers have assessed their level of understanding and ability. They must be accompanied by a responsible adult.

Whilst younger children are welcome, they should be of an age where they can remain seated and clam. They should be supervised at all times by a responsible adult. All dogs, even the most even-tempered, have the capacity to bite when frightened.

All Club members wishing to train in Agility are expected to help with the setting up and taking down of equipment.

If necessary, referrals can be made for one-to-one behavioural advice.

It is advisable that the dog is handled by the same person every week to avoid confusing the dog.

Members parking at the club and at the agility ground do so at their own risk.

Club members should be encouraging to each other and treat other club members with the same level of respect they would expect to receive.

STARTING TIMES

 

 Puppy training                    7.00 -8.00pm 

Junior/ Adult ( Bronze) training  8.150-9.15pm

Silver/Gold training            7.15 (times and venues may vary)

Unfortunately none of the above classes are taking place at the moment due to Covid 19 

                   

Competition Obedience training           6.30-9.00pm (speak to  Jillian) Alternate Tuesday evenings

 

Agility training:        (speak to Mary )

Summer - 5.30 -10.00 pm             Winter - Saturday 9.30am – 3.00pm

 

 

**Please remember theses premises are privately owned so treat them as you would your own. The club is your Club and the people who run it and train you are all volunteers. Any help is always welcome eg Cleaning up and sweeping the floor on training nights and also at the 2 Agility and 2 Obedience shows that we run each year.**
---
GDPR COMPLIANCE
We are totally committed to protecting your privacy. Should you choose to join our club, we want you to feel safe at all times
To reflect the new standards established by the General Data Protection Regulation (GDPR), we've reviewed our current practice and can reassure you that should you join our club, your personal details will only be used for the benefit of you and other club members. We will always endeavour to hold your information securely and use it responsibly and transparently.
General Data Protection Regulation expands your existing set of rights regarding your personal data and we make the following commitments:-
We promise that we will only use your personal data (i.e. 

name, email, telephone number and address) 

to contact you regarding club matters or areas which might be of interest or relevant to you.

We will only send you relevant and targeted communications which we feel would be beneficial to you.

We may wish to use photos or videos of club activities to publish on our website or to post on social media channels.

You have the right to withdraw your consent or correct information at any time

We agree not to share your details or with third parties without your permission.
We take protecting your personal data very seriously and hope that by making these commitments, you will feel safe and comfortable within the dog club community.
Should you have any questions, please feel free to contact us any time by email~ brenda.o@hotmail.co.uk
---