NEWS
<<< Previous Page | Next Page >>>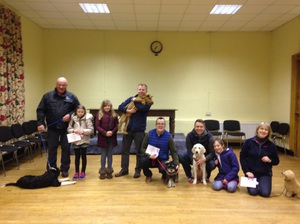 Puppy Assessment
Successes
 The following owners and their pups recently passed their Kennel Club puppy assessments. FromL to R: Molly and Charlie, Lauren and Gary, Keith and Ernie, Keith and Trudy and Antoinette and Sonny. Well done everyone
---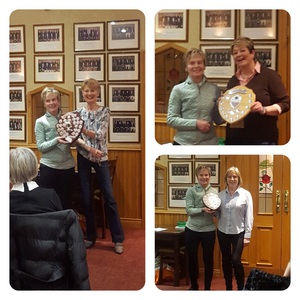 ANNUAL CLUB DINNER
Presentation of Awards ( Obedience)
 Twenty-three club members attended our annual dinner at Rockmount Golf Club near Saintfield . The food and the craic was good. The club annual awards were presented to the lucky recipients who had done so well during the preceding season. The Obedience winners were:
Pre-Beginners - Antoinette and Cher
Beginners - Ciaran and Oskar
Novice - Jillian and Splash
A,B & C - Lynda and Rinci
The combined Obedience and Agility trophy was won by Jennifer and Mac
24th Feb 2016
---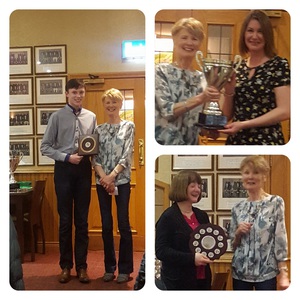 ANNUAL CLUB DINNER
Presentation of awards (Agility)
 Well done also to the winners of the Agility trophies :
Paddy and Cassie Trophy (6-7) dogs- Alison and Zara
Cody Trophy (6-7 handlers )-Alison and Zara
Bess Shield (3-7 handlers) - Alison and Zara
Tara Trophy (1-5 handlers) - Andrew and Harry
Kinelarty Trophy (1-7 handlers Medium) -Jayne and Rosie
Down DDTC Trophy (1-7 handlers Small) - Andrew and Harry
25th Feb 2016
---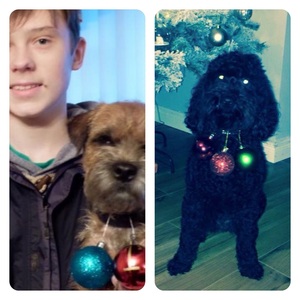 Glandore DTC
Christmas agility show
Huge congratulations to Jayne and Rosie on their first win at a KC show. They were 1st in 1-3 Medium agility and 4th in Medium 1-3 Jumping. Andrew and Harry maintained their usual high standard by winning small 4-5 Agility and coming 2nd in 4-5 jumping. Jennifer, Alison and Mary also enjoyed placings in some of the other classes. A welcome Christmas bonus for everyone!
28th December 2015
---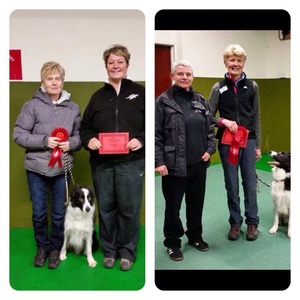 Lisburn DTC
Christmas Obedience Show
Congratulations to Jillian on winning B with Lynda's  Rinci and  to Jennifer and Mac on winning A at Lisburn's Christmas Obedience show today
5th December 2016
---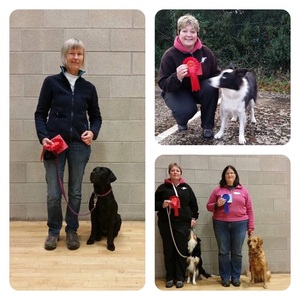 Ballyrawer Dog TC
Obedience Show
 Club members were very successful at today's Obedience show. Jillian won Novice with Splash and B with Lynda's RInci and Maria won Beginners with Ronja. Miriam was 2nd in Novice with Mia and Jilian was 4th in C with Kappa. Well done all.
21st Nov 2015
---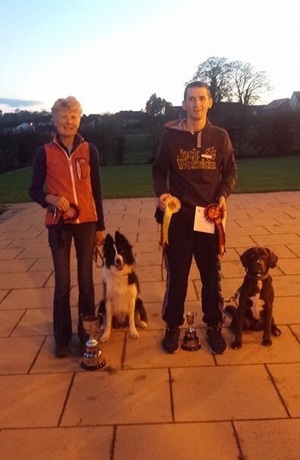 Glandore Dog Training Club
Obedience show
 Congratulations to Jennifer and Mac on winning their first A at Glandore Obedience show today and to Ciaran and Oskar on winning Beginners Obedience. Jillian, Miriam and Maria also enjoyed places with their dogs. Well done all,
7th November 2015
---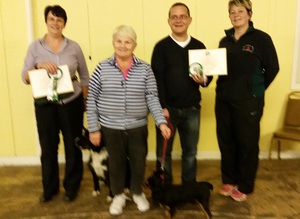 KC Bronze Awards
 Congratulations to the following owners and their dogs on successfully completing their Good Citizen Bronze Award: Joan and Biggles and Naomi and Robert with Harvey, along with Judge Jillian Davis.
Well done
30th September 2015
---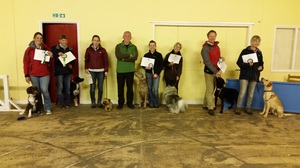 Good Citizen Successes
Silver and Gold
 Congratulations to those club members who recently passed their Siver/Gold Good Citizen assessments. From the left: Alison and Truffles (Silver), Margi and Jessie (Gold), Judith and Heath (Gold), Judge Bobby Austin, Catherina and Lilly (Silver), Sue and Rika (Silver), Ian and Freya (Silver), Maria and Oden (Silver).
Well done everyone.
27th September 2015
---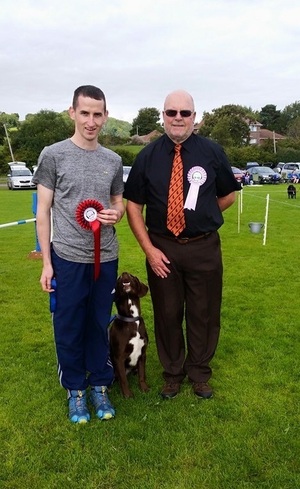 Down District DTC
Agility show
 Congratulations to Ciaran and Oskar on winning the ABC Novice Crufts Qualifier at our own show this weekend. Well deserved!
22 September 2015
---
<<< Previous Page | Next Page >>>